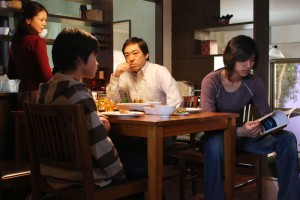 Like last year's Oscar-winning Departures, Tokyo Sonata kicks off with its leading man's abrupt dismissal from his job. The recession has clearly gotten worse since then: where the earlier movie proceeded to thrust him into the bewildering reaches of the embalming business, Tokyo Sonata offers up nothing to leaven its protagonist's similar desperation to keep up appearances to his housewife. Well-shot, well-rehearsed images of the jobless' indignities (stuffy unemployment lines, merciless interviewers, grubby leftover jobs, etc.) are the stock of this technically proficient study of one dysfunctional family as a microcosm of urban malaise in modern Japan.
In its screenwriting, the movie resembles an Eastern take on both Little Miss Sunshine, with each character seeming to embody his respective cue card (the long-suffering wife, the iconoclastic elder son, the ambitious younger son); and a Paul Haggis film, in which every ambient event contrives to reflect its protagonist's troubles. In a more benign instance, as the newly unemployed Ryûhei Sasaki (Teruyuki Kagawa) ambles into a plaza, a passing couple amp up their conversation about visiting the "Hello Work" career centre before it is too late. At its weirdest, a desperate robber breaks into Sasaki's house and holds his wife Megumi (Kyôko Koizumi) hostage, a late-arriving twist that threatens to derail the movie altogether.
Near the film's midpoint, though, the movie almost promises to liberate Megumi from cliché, shifting our perspective of her to that of an adept, resilient woman who accommodates each of her family members' dreams and insecurities better than her husband can. But the screenwriters prefer to leave redemption to the hands of fate—their hands, to be exact—and so each member has to push themselves to the end of their respective tethers, before chance mercies can show them that home is where they belong. Aww. The movie's last scene is a literal sonata, kept in a mercifully gimmick-free long shot, until the lingering on the empty stage and awed full-house audience hammers in exactly how the movie wants us to view it as well.
Tokyo Sonata | 2008 | Japan | Director: Kiyoshi Kurosawa| Screenplay: Kiyoshi Kurosawa, Max Mannix, Sachiko Tanaka| Cast: Teruyuki Kagawa, Kyôko Koizumi, Yû Koyanagi, Inowaki Kai, Haruka Igawa, Kanji Tsuda, Kazuya Kojima, Kôji Yakusho