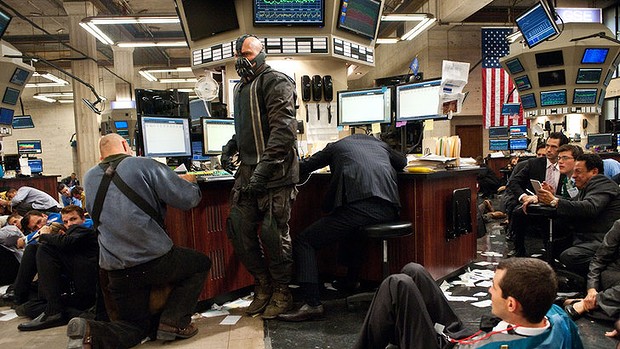 Try as he might, Christopher Nolan can't quite master multitudes. In the third and last instalment of his Batman trilogy, Gotham City is overthrown, and the wealthy are hauled off to a people's court. But where are all the people? They're faceless masses, huddled neatly to either side as an asylum-loosed judge delivers the sentence. Mansions are pillaged, crowds riot at hotel entrances—but only for the brief length of a voiced-over montage. Just as abruptly, the streets become conspicuously empty. Before this, entire held-up stock exchanges and stadiums turn meek as lambs at the sight of a few guns.
Throughout The Dark Knight Rises crowds are always docile, organized or absent, and mob agency looks a lot like the will of a few. Perhaps this is Nolan's point. For him, history is a clash of fascists benevolent and malicious; send enough megalomaniacs running around, and the masses can be trusted to hand over their fates. Even the hostaged ships in The Dark Knight, who stood inspiringly against the Joker's plans to set them on each other, did so at the hands of a mere three people amid two boatloads of cowering passengers.
Nolan's iron fist
"Do you really think he'd let someone else hold the trigger?" asks a character about Bane, this movie's main villain. The same applies to Nolan, who remakes his villains in his own image. The Joker, a self-professed agent of chaos, is also paradoxically a mastermind of elaborately controlled maneuvers. Yet he's played by Heath Ledger as such an enigmatic, self-contradictory force of personality—a charismatic who wields ideology to his own ends—that the charges don't quite stick. Bane, despite his rippling physique, is far more person-sized. He's a bland ideologue, and we are told enough about what he truly intends for Gotham that his ideology-laden speeches to the city's 99% fail to rouse belief. It doesn't help that these speeches try to masquerade hardened criminals and an anonymous terrorist as representatives of the disenfranchised ordinary citizen. (If this is also Nolan's point, that the masses can be so easily duped by incoherent posturing on their behalf, then maybe all the straight-faced polemics over this movie's politics prove him right.)
Too many audiences of The Dark Knight Rises have tried to pin down Nolan's ideology based on what his characters say and do, when Nolan already shows his hand in the conditions of his movie's making and unfolding. Is it so hard to tell what he thinks of people? It's not just his movie's canyon-wide distinctions between demigods and the masses. We also know he's a multi-million-dollar technocrat who lavishes attention on mid-air plane hijacks, motorcycle chases, acrobatic aircrafts and explosions galore over those being saved or killed. We know he's a plot wonk who favors late-game twists, copious exposition and implausibly convenient actions at the expense of character-driven developments. (At his worst, an entire police force gets rerouted toward a single mission, just so a massive stadium game with the city's mayor presiding can have no security whatsoever.) We know his notion of feeling is to stop a film in its tracks to let Michael Caine blubber and Joseph Gordon-Levitt clench his forehead, though at least this time, all employers and parents and lovers worth mourning enter the movie pre-dead.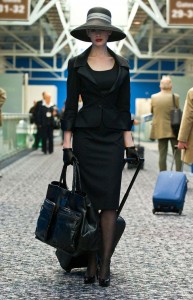 The Cat gets away
If Anne Hathaway, as jewel thief Selina Kyle, escapes this dearth of character complexity most unscathed, it's because her role is the only one that doesn't constantly require her to wear her heart on her sleeve. (Nolan's usual notion of screenwriting: say what you feel!)
I'll admit I was wary. Hathaway, who most impressed me with her wounded petulance in Rachel Getting Married, struck me as too meek and naive to emanate the sultry vengefulness that Michelle Pfeiffer so brilliantly essayed as the same character in 1992's Batman Returns. The movie's trailer also featured Hathaway at her least convincing, as she grapples with Nolan's unwieldly portentous one-liners by weighing them down further in pace and emphasis. (This approach worked for Pfeiffer, since it imbued Tim Burton's lightweight comic enterprise with some measure of gravitas, but we're talking about Christopher "Why So Serious" Nolan here.)
As it turns out, Nolan and Hathaway are savvy enough to play into the latter's convent-girl persona before dropping it with a smirk. This Selina Kyle, like a less expansive Joker, has the brains to keep ahead of everyone else's brawn, with the off-guard initiative and quips to prove it. Given such strategic advantage, Hathaway attacks the role with rapid-fire intelligence, mocking nonchalance, and quicksilver shifts in persona—though she's also a knockout simply strutting under a cocked hat brim. (In more ways than one.) Too bad Nolan isn't generous enough to dole out such bouts of resourcefulness to more of his characters. If his choice of Bane as villain indicates anything, it's that he ultimately prefers brute force.
Sure, superheroes and their foes might always have been fascist. But at least The Incredibles, one of this movie's closest compatriots in foregrounding that theme, was put together by a studio of animators who had good reason to cheer on teamwork among elites. By contrast, The Dark Knight Rises is a lot closer in spirit to Watchmen, which Zach Snyder directed with as much bloodlust and cynical disregard for the world as his characters. Yet I doubt Nolan meant to suggest that Batman torques everyone else in line with his relentless machinic vision, one so totalitarian that probabilistic nuclear decay is rendered as ticking away with the per-second precision of a regular old timebomb. Of course, I'm grateful that Nolan exists to inject ambition, scale and grandiosity to a blockbuster milieu plagued with generic or incompetent studio hacks. But left to his devices, the razing of a city can feel too simply like a giant chessboard that shuffles around at the whims of plot.