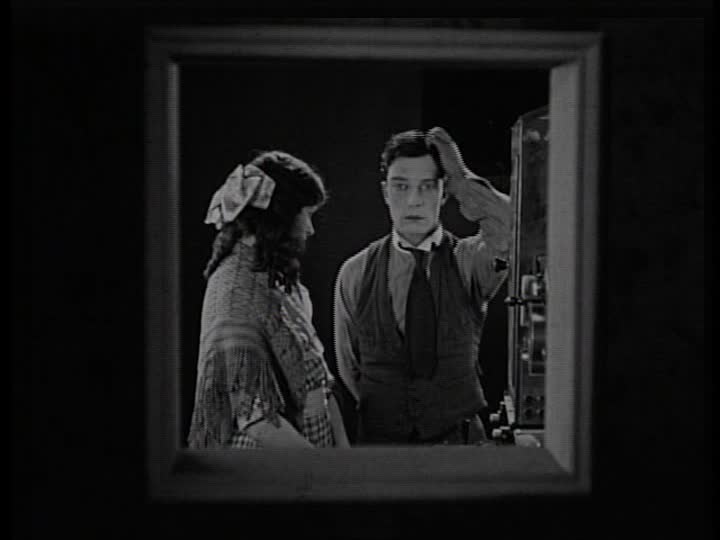 It's almost a given that Buster Keaton's Sherlock Jr. (1924), springing from the head of one of early cinema's foremost slapstick geniuses, is a choreographic delight. What's more surprising, given our continual fallacy about human advancement, is how many self-reflexive and frame-breaking gestures abound in Sherlock Jr. that haven't been far surpassed since. The classic example from this film, of course, is the delicious sequence when a dream-state Keaton walks up into a movie screen and gets ambushed by the cuts from one scene to another. (It'd be my pick for best shot, if only that sequence weren't the painstaking product of numerous match cuts.)
Instead, my pick is the movie's very ending shot you see above, for various reasons:
Buster Keaton's stony face is part of his eternal charm, and here he even scratches his head to accentuate his adorable bafflement;
Learning romance from the movies isn't a new thing, but it's so rarely deliberately choreographed as part of the joke (as it is in this scene);
Frames proliferate in Sherlock Jr., not just in the movie-screen crossing sequence but also here, and multiple times elsewhere: inexplicably bolted front doors, theatrical curtains obscuring a desired lover and a competing suitor, etc.; and
As a projectionist, I love that it doesn't seem like the projector has a space to project the movie through. The stars are more important!