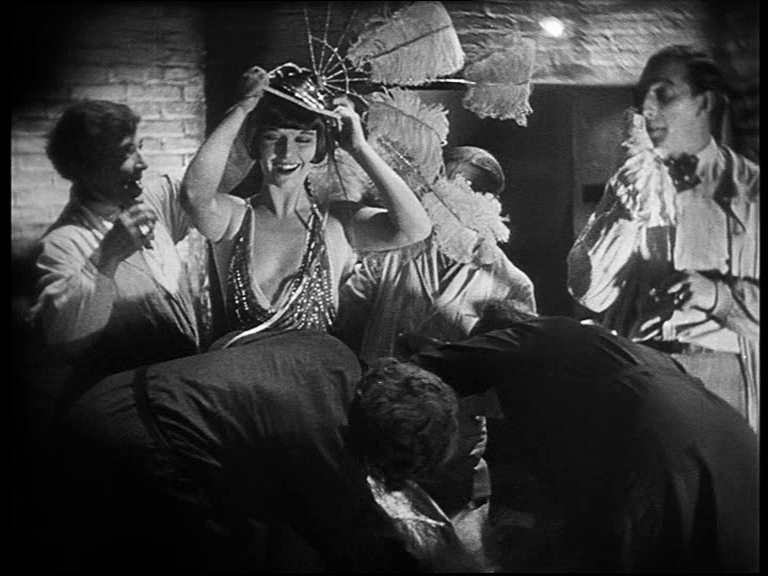 Perhaps it is inappropriate that G.W. Pabst's Pandora's Box will be the last movie I watch before flying 18 hours to the University of Chicago, and into a new chapter of my life. After all, the movie depicts characters who can barely understand or avoid the impulses they chase, even though this inevitably leads them into situations ever more dire. Indeed, in the shot above, Lulu (Louise Brooks) thinks she's just ensured that things will go back to the way they were. Spoiler alert: they will not.
But I would like to think that I have a better grasp on my future than Lulu does, and the movie also works as fitting emblem for some of my hopes and resolutions. Take this very shot: as she gets dressed for her stage debut, assistants decked out-of-focus around her, you might think the reasons for Lulu's glee are entirely professional. In truth, she's just netted a very personal triumph, but you wouldn't know this if I hadn't said it (unless you've watched the film, of course). Take it from me too, then, that this blog is going to get a lot more personal from now on, since its pegging to my ups and downs as a film-studying undergrad means that my relationship to the movies will advance beyond the occasional rental and formal critique.
Then again, I don't mean to understate just how far my pre-college cinephilia extends, since I bought Bordwell and Thompson's magisterial Film History: An Introduction for a bit of enjoyable reading more than two months ago. Thus I can't see how Pandora's Box is anything but appropriate for this moment: not only did Nathaniel R fortuitously delay its episode in his inspiring Hit Me with Your Best Shot series so it coincided nicely with my departure; not only does it belong to the silent era, an area of expertise for my university's film studies department; it also fits into one of the biggest gaps in my movie knowledge that I'm already most eager to fill.
What follows, then, is a list of movies that I'm hoping to catch for the first time (or would like a proper new look at) while in college. They're divided into the sections of Film History that I've read in which they turn up, and Pandora's Box lies crossed out among them, giving you a glimpse of the kind of tweet-length response that follows when I've watched one of them. And of course I'm expecting this list to grow—not least because you might have some to recommend!
Invention and Early Years of the Cinema, 1880s–1904
A Trip to the Moon (Méliès, '02)
Life of an American Fireman (Porter, '03)
The Great Train Robbery (Porter, '03)
International Expansion of the Cinema, 1905–1912
Films of Max Linder ('07–'17)
The Revenge of a Kinematograph Cameraman [stop motion] (Starevicz, '12)
National Cinemas, Hollywood Classicism, and World War I, 1913–1919
The Student of Prague [an Autorenfilm] (Rye, '13)
Fantômas [French serial] (Feuillade, '13–'14)
Cabiria [Italian epic] (Pastrone, '14)
The Birth of a Nation (Griffith, '15): A quaint, laborious, vilely effective KKK propaganda piece
Intolerance (Griffith, '16)
The Keys to Happiness (Protazanov, '15)
Father Sergius (Protazanov, '17)
The Immigrant (Chaplin, '17)
France in the 1920s
The Tenth Symphony (Gance, '18)
Germany in the 1920s

The Cabinet of Dr Caligari (Wiene, '20)
Nosferatu (Murnau, '22)
Metropolis (Lang, '27)
The Joyless Street (Pabst, '25)
Pandora's Box (Pabst, '29): Brooks radiates impulsiveness; script, staging and actors make you care for the equally doomed people in her orbit
The White Hell of Pitz Palu (Pabst, '29)
Soviet Cinema in the 1920s
Aelita (Protazanov, '24): Cockamamie mix of melodrama, sight gags, stagey set pieces, and Soviet Martian revolutions
The Extraordinary Adventures of Mr West in the Land of the Bolsheviks (Kuleshov, '24)
The Battleship Potemkin (Eisenstein, '25)
Mother (Pudovkin, '26)
The House on Trubnaia Square (Barnet, '28)
Man with a Movie Camera (Vertov, '29)
Fragment of an Empire (Ermler, '29)
Late Silent Era in Hollywood, 1920–1928
The Four Horsemen of the Apocalypse (Ingram, '21)
Wings (Wellman, '27)
Safety Last [starring H Lloyd] (Newmeyer and Taylor, '13)
The Circus (Chaplin, '27)
The General (Keaton and Bruckman, '27)
Putting Pants on Philip [starring Laurel & Hardy] (Bruckman, '27)
Sunrise (Murnau, '27)
7th Heaven (Borzage, '27)
The Docks of New York (Von Sternberg, '28)
International Trends of the 1920s
The Passion of Joan of Arc (Dreyer, '28)
Vampyr (Dreyer, '32)
Un Chien Andalou [Surrealism] (Buñuel, '28)
The Fall of the House of Usher (Watson and Webber, '28)
Nanook of the North (Flaherty, '28)
Introduction of Sound
The Jazz Singer (Crosland, '27)
Blackmail (Hitchcock, '29)
M (Lang, '31)
Hollywood Studio System, 1930–1945
All Quiet on the Western Front (Milestone, '30)
Min and Bill (Hill, '30)
Trouble in Paradise (Lubitsch, '32)
Holiday (Cukor, '38): Fairest standoff of Freedom against Sensibility I've seen in Hollywood romantic idealism. Grant and Hepburn lovely, fragile
The Shop Around the Corner (Lubitsch, '40): Unhurried, humane, equal parts bittersweet and warm. Masterful handling of a potentially treacly premise
Citizen Kane (Welles, '41)
The Lady Eve (Sturges, '41): Stanwyck's masterclass in sensuality, intelligence, emotional clarity & comic wizardry. Deftly paced, if a bit boisterous
The Magnificent Ambersons (Welles, '42)
Other Studio Systems
Madam and Wife (Gosho, '31)
Wife, Be Like a Rose! (Naruse, '35)
Humanity and Paper Balloons (Yamanaka, '37)
Cinema and the State: the USSR, Germany and Italy, 1930–1945
Chapayev [Socialist Realism] (Sergei and Vasiliev, '34)
Triumph of the Will (Riefenstahl, '35)
France: Poetic Realism, the Popular Front and the Occupation, 1930–1945
The Rules of the Game (Renoir, '39)
La Vie est à Nous (Renoir et al, '36)
Leftist, Documentary and Experimental Cinemas, 1930–1945
Kuhle Wampe [written by Brecht] (Dudow, '32)
The Plow that Broke the Plains / The River (Lorentz, '36/'37)
American Cinema in the Postwar Era, 1945–1960
The Best Years of Our Lives (Wyler, '46)
Gilda (Vidor, '46): A draggy, curious noir on triangular obsession; only Hayworth earns and keeps her status as bearer/object of hatred and desire
Letter from an Unknown Woman (Ophüls, '48)
The Lady from Shanghai (Welles, '48)
Adam's Rib (Cukor, '49): A shocking, revealing play at Tracy/Hepburn's relationship. Outraged, sex-minded, needy Hepburn a surprise
Sunset Boulevard (Wilder, '50)
The Searchers (Ford, '56)
Touch of Evil (Welles, '58)
Psycho (Hitchcock, '60)
Postwar European Cinema: Neorealism and its Context, 1945–1959
The Bicycle Thief (De Sica, '48)
Postwar European Cinema: France, Scandinavia and Britain, 1945–1959
Day of Wrath (Dreyer, '43)
The Earrings of Madame De… (Ophüls, '53)
Postwar Cinema Beyond the West, 1945–1959
Sanshô the Bailiff (Mizoguchi, '54)
Art Cinema and the Idea of Authorship
Diary of a Country Priest (Bresson, '51)
Pather Panchali (Ray, '55): Loose vignettes rooted in rhythm to the life of poor, rural Indian family. Charming, eye-opening, at times very sad
Persona (Bergman, '66)
Blow-Up (Antonioni, '66)
Play Time (Tati, '67)
Hollywood's Fall and Rise: 1960–1980
2001: A Space Odyssey (Kubrick, '68): Sublimely scored opera of primal visions, riveting sci-fi worldbuilding, boldly deliberate thriller. A triumph
McCabe & Mrs Miller (Altman, '71): Hazily, expansively grounded in its small-town locale and western tropes. Beatty at his muffled best
Back to the Future (Zemeckis, '85): A peak of 80s fantasy aesthetic. Joyfully contrived sets and scenarios, campy hindsight time-travel jokes galore
The Rocky Horror Picture Show (Sharman, '75): Brilliantly deranged, yet oddly unmoving; this movie demands the big screen, and crowd call-and-response